Company invitation code is a unique string that is used to invite other users into your Syniverse Developer Community Company. When users signup on to the portal or users decide it is time to join a Company, they can use the code provided to them to join an existing Company.
During sign-up, the user can provide the company invite code as shown below.

Locating the company invite code
The Admin user can locate the company invite code by accessing the Company management menu found in the top right corner under the user profile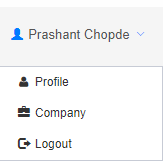 The Company invitation code can be located as shown in the screenshot below.