All Businesses looking to use WhatsApp Business API through the Syniverse platform must have or be able to create a Facebook Business Manager account . Creation and validation of a Business Manager account will provide a Business Manager ID which is a mandatory requirement for integration with the WhatsApp Business API service. Syniverse will not create Business Manager Account on behalf of any customer.
To create a Facebook Business Manager Account, you may follow the steps below:
Create a personal Facebook Account if you don't already have one
Create a Facebook Business Manager Account by logging in to the Facebook Business manager (You will need your personal Facebook account to login to Business Manager. https://www.facebook.com/business/help/1710077379203657
Follow the steps outlined in the above article to complete and setup your Business Manager Account and retrieve your Facebook Business Manager ID .
Complete the Business verification of your Business Account to enable access to WhatsApp Account menu. WhatsApp has provided a list of acceptable documents for business verification in many major markets (Brazil, China, Cyprus, France, India, Indonesia, Ireland, Italy, Japan, South Korea, Taiwan, UAE, Ukraine, UK, US) so businesses can submit the right documents on their first try, thereby reducing total time required for verification. Verification steps can be found at Verify your business in Business Manager.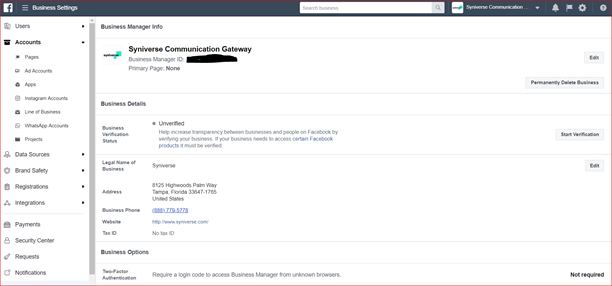 Once verification has been completed, the Facebook Business Manager account can now be used to enable WhatsApp Business API.
Next step after your account as been verified is to retrieve you Business Manager ID and provide this to your Syniverse account representative who will assist you with next steps which includes creating a WhatsApp Business Account